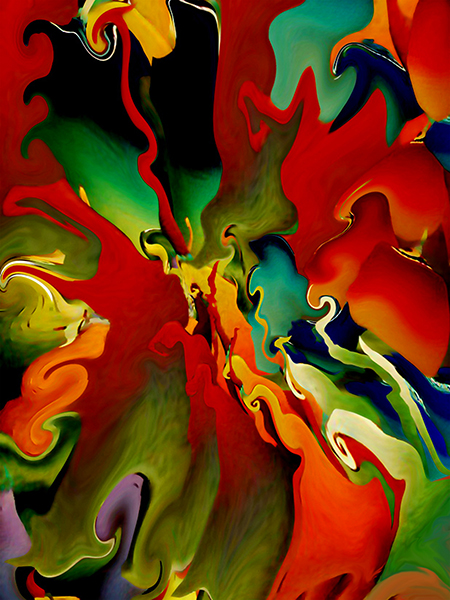 This digital construct, or digital painting if you prefer, was based on photographic work I did at an art fair. I captured images of some brightly colored earthen ware in spite of the scowls I received from the potter. I guess he thought I wanted to copy his work. I was more interested in his palette.
I brought the image into Photoshop, where I pulled and pushed the image of vessels (much as the potter must have done with his clay) into the shapes of surreal beasts. The resulting movement and colors have always been very energizing to me, and has continued to challenge me to re-create the same energy in my paintings with other media.
The small central image reminded me of the graphic novel character created by Neil Gaiman, The Sandman.  So, in concert with the painting's movement and surreal nature, Migration of Dreams seemed an appropriate title.
So, as you can guess by the context of this post, Migration of Dreams is not exactly new work. It is presented here to celebrate its lucky 13th anniversary.

I am currently offering Migration of Dreams as a limited-edition print in a run of 20 18″ x 24″ acrylic panels. For additional information on these prints follow this link.