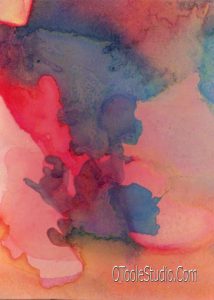 The true shaman were reported to  join their spirit with the Great Spirit and with the very essence of nature itself. When they created their sand paintings they were lending a hand in the structure of their own reality. This is true today with spiritual artists and their work. As Picasso said, "everything you can imagine is real."
The (Sunset) Shaman  was created with a wet in wet process, using alcohol inks on reclaimed packaging.
Why?Reclaimed packaging because I believe we do not fully utilize our resources.
Alcohol ink, because to me the result is effective because of depth, color and the restful energy conveyed.
The image is representative of a spirit warrior creating a sand painting in the sky.
This painting is available in limited edition prints at the Fine Art America site reached by clicking on the image directly above. You may determine for yourself which size you purchase, and the format in which you wish it to be produced. However, only 100 total will be produced. Once the purchase has been shipped and received from the printer, contact me for your numbered certificate of authenticity by email to: ken@otoolestudio.com